PAST EVENTS
Spiritual Harmony Day 2017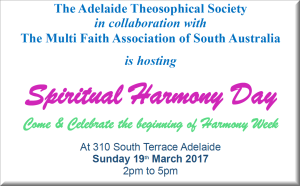 Humanity at the Crossroads 

From talk to action 
Tuesday 31 May 6:30 – 8:30pm
at the Baha'i Learning Centre, 275 Flinders St. City 
~~~~~~~
2015 End of Year Celebration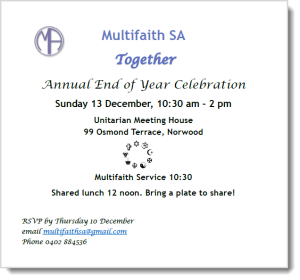 Humanity at the Crossroads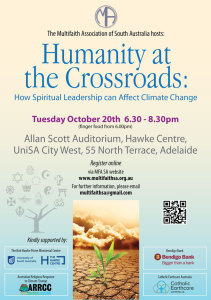 2014 End-of Year celebration
Sunday 14 December 2014 at the Unitarian Meeting House, 99 Osmond Tce
Multifaith Service with prayers and readings from different faiths followed by a shared lunch at 12 p.m.
 Fifth Annual Symposium
"Healing and Harmony", Sunday September 21 2014
Supported by Multicultural SA and UniSA Hawke Centre
2014: Scientific and Spiritual Dimensions of Climate Change – a Study Course
Bahai Inspired and compiled by Christine Muller
Baha'u'llah, prophet founder of the Baha'i Faith, counsels us
"Be anxiously concerned with the needs of the age ye live in and center your deliberations on its exigencies and requirements."
End of Year Picnic 2012
Date & Time: Sunday 9th December 2012 at 12:00 noon
Address: BOTANIC PARK
Bring a plate to share and something to sit on.
2012 Annual General Meeting
Date: Sunday 21st October.
Venue: BOWDEN BROMPTON Community Centre
Addres: 19 Green Street, Brompton, SA 5007
Speaker, Interfaith news and multicultural afternoon tea
All are Welcome!
The 2012 Interfaith Symposium
Annual Interfaith Symposium: Sunday 9th September. This year the format will be an afternoon of presentations and discussions followed by a vegetarian dinner together, accompanied by music representing various religious traditions. To register click here or download the registration form and post the completed form to the address at the bottom of the form.
Service for the Refugees
Many people people of different faiths and backgrounds came together at Pilgrim Church on Sunday July 1 for a Service of Mourning to remember those who lost their lives at sea attempting to reach Australia for a better life. Representatives from the Muslim, Christian, Jewish, Bahai and other faiths offered prayers and participants lit candles in remembrance of the refugees who never reached our shores.
Symbols of Faith
Symbols of Faith – at the Migrant Resource Centre hall at 23 Coglin St Adelaide near the markets at 3pm on Sunday 22nd April, each committee member will have 5 minutes each to show and explain one or more symbols from their faith, followed by questions and discussion.
The 2011 Interfaith Symposium
The 2011 Interfaith Symposium was a great success. Feedback was overwhelmingly positive. Many appreciated the wise and loving message of Stephanie Dowrick, another favourite was the panel of Christian, Jewish, Muslim, Bhuddist, Hindu and Bahai speakers grappling with the issue of "why good people suffer". An interesting feature of the feedback was that many different people had differing favourite experiences, suggesting that the diverse program really did have something for everyone. The vegetarian catering was, once again, superb. We were pleased to have over 60 people attend, but we recognise that numbers were down a bit due to the clash with Sunday morning worship obligations for the Christians among us, so you may see different scheduling next year. Assistance from the Hawke Centre (UniSA), Multicultural SA and the Apple Board was greatly appreciated
Spiritual Journeys
In March we met for "Spiritual Journeys" when 9 Committee Members briefly described their faith and how they came to it. A simple but profound time of sharing, much appreciated by all who attended.
Picnic Photos Botanic Park, Dec 2010